For some inexplicable reason, cemeteries intrigue me. I'm not otherwise morbid but find it hard to pass one without wanting to drop in. Don't get me wrong, I have no desire to be on the inside when they lock the gates for the night, but there is something fascinating about our dearly departed's final resting place and the history that lies buried within.
As often happens, Mr. Lee and I found ourselves at our local Mountain View Cemetery. On this particular day a summer storm threatened as we pulled through the gates. The grass had clearly given up all hope of ever being green again, and the letters on the rudimentary wood and pole sign had begun to peel away. (I guess that's what non-endowed means.) We parked the car on a random curve in the dirt road. We weren't there to visit anyone in particular.
After investigating a long row of St. Joseph nuns with identical cement slab headstones, we came across a statue of Jesus behind Plexiglas. It wasn't clear which plot he guarded, but someone had gone to great lengths to protect him from the elements. Statuary and memorial benches are in abundance here. They add to the notion of quiet. Actually, it's more than a notion of quiet, it is absolute quiet. Not a lot of chatter in a cemetery, even on the rare occasion that we spy another visitor. It's a peaceful place, where a life-sized angel shares duties with the more abundant St. Francis statues, only she appears to be the Patron Saint of Bunny Rabbits.
I stopped, for a spell, at the grave of Augustus Troutz—mostly because one must take pause when they are in the midst of a great name like Augustus Troutz. As usual, I turned around to find Mr. Lee missing.
He'd just finished talking to the groundskeeper  when I caught up with him, and Mr. Lee was eager to show me what he'd stumbled upon. He brought me to a modest marble gravestone that lay in the dirt close to the edge of a curve in road. It was the final resting place of Little Miss Nobody, 1960. The groundskeeper had few facts about Little Miss Nobody—only that she died in a hotel fire and was never identified. From that I was left with the impression that she was a young woman.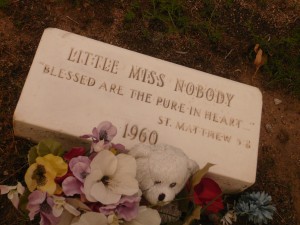 I came home and did a little research, and then went to the library and did some more. I re-learned how to use microfilm equipment, and where to find the spools of film. I spent the next four hours sifting through pages of newspaper articles. It turned out the groundskeeper's version of the story was not quite right.
On July 31, 1960, the body of a little girl was found in the desert, half buried and badly burned. She was thought to be between 7 and 9 years old. Because she'd been dead a week or two, the coroner was unable to determine a cause of death. Daily newspaper articles kept Prescottonians informed, one time reporting that she'd been wearing white shorts and a checkered blouse (and that her fingernails and toenails were painted)—details that made her some mother's daughter. It was thought she may have been a transient and that her family couldn't afford a proper burial. But that wouldn't account for the fact that she'd been set on fire.
After just over a week of investigations and false leads, she was laid to rest. And this is the sweet part. On August 10, 1960, the local newspaper ran an article that began, "Little Miss Nobody was somebody today." A local radio announcer organized the collection of funds to provide the unnamed girl with a proper burial. In the accompanying photograph, a dozen or more citizens, wearing suits and dresses, attend her funeral service. Those same citizens paid for her headstone and followed her pale blue casket, draped in pink and white carnations to Mountain View Cemetery, where she has been Little Miss Nobody for fifty years.